ABOUT US
Over 45 years of combined experience
Started in Oregon in 2007.....
Most Wanted Painters, Inc started business in Oregon in 2007 providing a high quality service resulting in a better look to homes, buildings and new projects in our community.
OUR GOALS: Customer Satisfaction - Create jobs - Provide finest services for our community.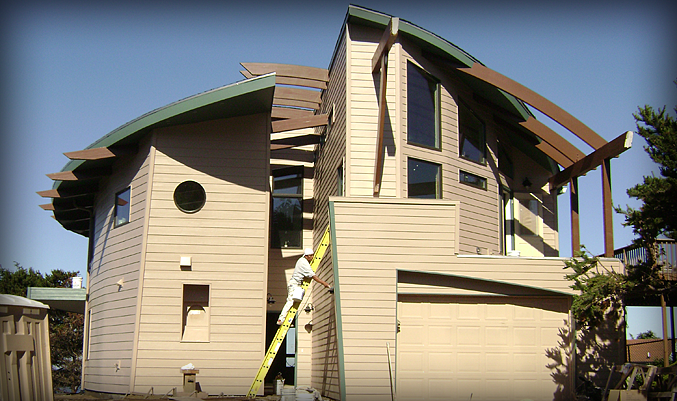 We are distinguished in the local community through people who know our company and have used our services. They know we are reliable and we do a GREAT job. Each project we pursue we pursue it with energy, enthusiasm, and treat the home/office like it was one of ours. So if you are seeking a job well done, on time, reasonable prices and excellent references please contact Most Wanted Painters,Inc. You can rely on us to get the job done on schedule with the highest quality you expect no matter what.
Recipient of eight Newport News Times, Lincoln County's annual "Best of the Best" A-List awards! The "Best Customer Service" award is chosen from among all businesses, not just painting companies, so we are especially proud of receiving this award in particular.

Thank you Lincoln County for voting for us!!
2022- "Best Painter"
2022- "Best Residential Painters"
2022- "Best Commercial Painters"
2022- "Best Painting Service"
2022- "BEST CUSTOMER SERVICE"
2021- "Best Painting Contractor"
2021- "Best House Painters"
2020- "Best Painters"
Also awarded a 2021 Angi "Super Service" Award! This award recognizes the best home pros on Angi for their excellent customer service, high customer reviews, hard work, dedication, workmanship, and commitment to providing a great experience for Angi customers.
Angi Super Service Award 2021 winners have met stringent eligibility requirements, across ratings and reviews during the eligibility window of November 2020 - November 2021. This award, first introduced in 1998, recognizes the best home pros on Angi for their hard work, dedication, and commitment to providing Angi customers a great experience.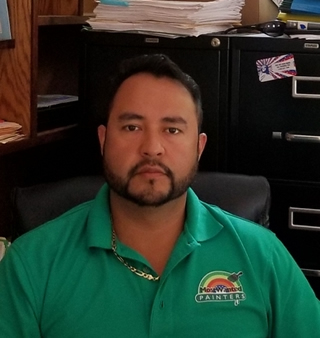 SAUL
OWNER
Saul began his painting career in 2000. He found he had a natural knack for painting. Worked for a few painting contractors in the valley for several years and when a client in the valley had a home at the coast that needed painted, the company he was working for sent Saul to do the job. He stripped and re-stained that home, and when the neighbors saw how great it looked after he was finished, they wanted their house re-stained as well. They continued to gain work from word of mouth, and Saul began to gain a reputation at the coast as the one to call for staining or painting.

In 2007, he started his own business, Most Wanted Painters, Inc. In the beginning, it was Saul along with his brother. Saul's business reputation grew as he provided great customer service and meticulous attention to detail.

Then 2008, just one year later, the economy took a hit and so did most painting contractors at the coast. But Saul seemed to push through the trying times. With a good reputation and referrals from satisfied customers, he was able to grow his business when many others struggled or went out of business.

Today, Saul employs 10-20 painters, depending on the season. He sets a high standard for meticulous work and insists that ever painter he employs understand the importance of attention to details and taking care of the little things. Every employee works hard to ensure they are meeting the standards that Saul has set for his company and his employees.

In 2018, Saul moved his homebased office from Lincoln City to Newport and hired an Office Manager, Yvette Quale. With the addition of Yvette, he has been able to add Color Consulting to the services we offer. This is a service not offered by other painting contractors in the area.

With a reputation for client satisfaction, an exceptional work ethic and an innate ability to predict the crazy coastal weather (ok, maybe not every time it's going to rain), Saul has built a business that local contractors, homeowners, multi-family facilities and government entities have come to rely on for their painting needs.

Saul is married and is the father of three, two boys and one girl. In his spare time, Saul enjoys fishing, enjoying the outdoors, and spending time with his family.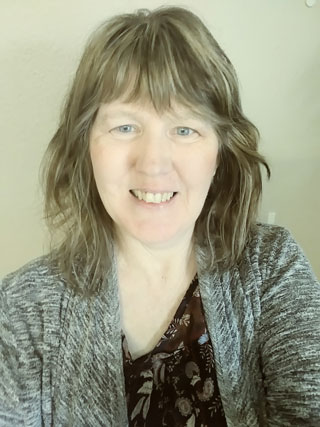 YVETTE
OFFICE MANAGER
COLOR CONSULTANT
In 1992, Yvette began working in a national discount store in Utah as a cashier, to earn a little extra spending money. She was promoted to the head of the paint department two weeks later, having never held a paint brush let alone painted a room! Reading labels and asking professional painters lots of questions, she learned a lot about paint. In 1994, she accepted a job with a Utah based lumber store chain. She quickly moved to the position of Retail Manager and was also, once again, put in charge of the paint department. In 1998, she and her family moved to Oregon and she worked for a local lumber store in Newport. She then applied for and accepted a job with a national brand paint company. First as a part time employee, then as an Assistant Manager and then for the last four years as the Market Manager. She left this job in January of 2018, after nearly 19 years of service.

While calling her professional painting customer to inform them of her decision to leave the paint store, Yvette called Saul. He offered her a job and they scheduled a lunch meeting to discuss the details. She started working at Most Wanted Painers, Inc., just a few weeks later and is the Office Manager, Color Consultation and radio ad voice for the company.

While at the paint store, Yvette gained a reputation as being the "go to" person when you needed paint to be perfectly matched or needed help with color. Local painters and homeowners alike have come to rely on her expert color eye and her natural knack for color. Color is her "thing" and many locals call her the "Paint Lady" or the "Color Queen". Whether choosing the right color for your front door, colors for a large local business building or apartment complex or you just need to know which shade of gray is the perfect, trending shade.....Yvette can answer all of those questions and more.

Yvette is married and has two grown children, a boy and a girl. In her spare time, Yvette loves to craft: crochet, beadwork, embroidery and papercrafts along with home décor items are her current crafting passions. She has an Etsy shop featuring her handmade items, is a vendor at several local craft fairs in the fall and winter and has her items in a few art galleries.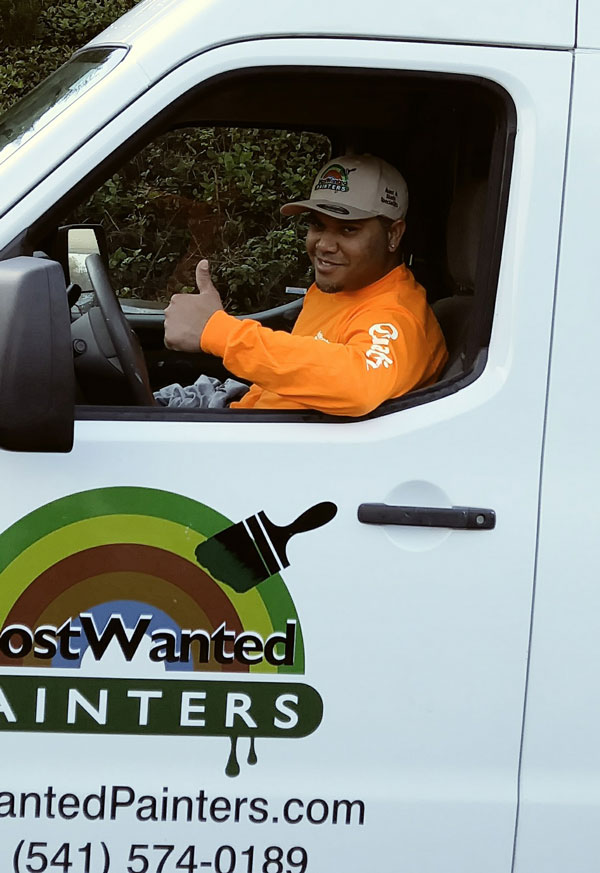 RICHARD - CREW LEADER
In 2016, Richard became a member of Most Wanted Painters team. He started as an entry level worker, and quickly became a Crew Leader. Richard has proven himself to be a leader who takes pride in his work and the work of the employees he is leading. He is always wanting to learn as much as he can about ways to improve himself and his crew. Richard is grateful the opportunities he has been given as part of our team, and continues to work hard to move up in the company.

Richard is a family man who enjoys one of his favorite sports, baseball.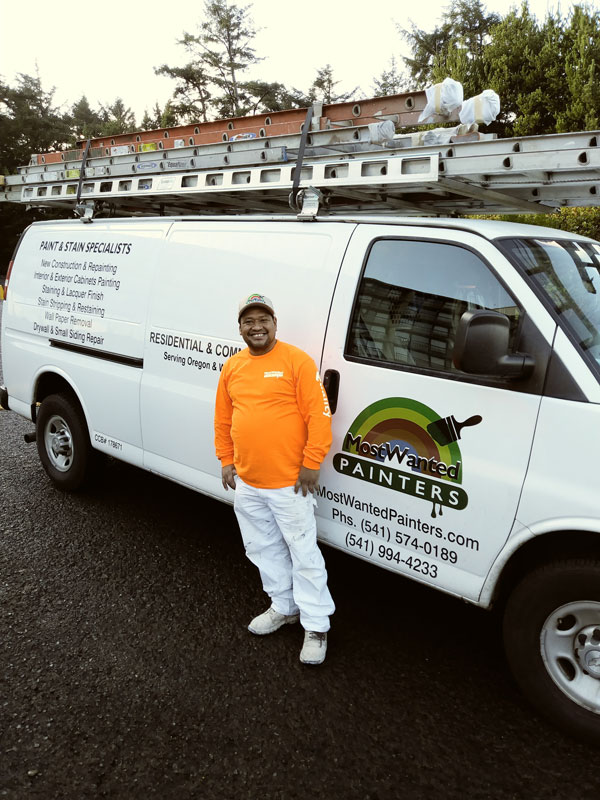 ROBERTO - CREW LEADER
Roberto in an experienced painter who began working with our company in 2015 . Coming from another state, he had a lot to learn about the unique weather conditions at the Oregon coast, but he caught on quickly. Now, he is a Crew Leader and is helping to train new employees in the day-to-day challenges of being a coastal painter.

The first thing you will notice about Roberto is that he is always smiling.....even on a bad day. He is often heard saying, "Echa pa'lante, mi amigo"...which in English translates roughly to, "Just gotta keep moving on, my friend."










Top